Discussion Starter
·
#1
·
Thought I would start a build thread on the Evo IX Wagon GT I picked up as a family car to go with the Evo X I currently drive as a daily. It may well end up replacing the X as it seems to be able to do it all!
The X is currently running 400 440 and you can see some of its build on this thread although its not up to date with the Motec dash etc :handsup:
http://www.lancerregister.com/showthread.php?t=457654
Both cars are looked after by MG due to service and location :smthumbup
The IX is a fresh import bought from a distance via SVA imports. I have to say that their service was very good and apart from a minor ding on the front end the car is in fantastic condition.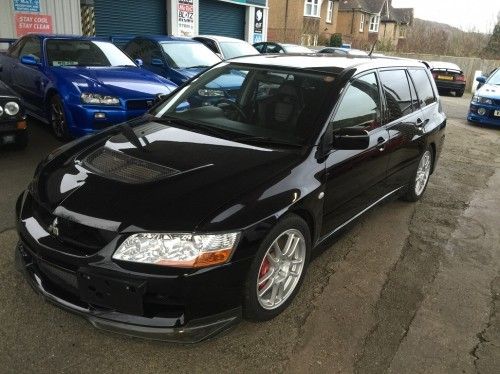 Front end ding
First things first, I hate crap brakes and the discs were not in good condition so off they came to be replaced with some Giros.
Dave at MG did a great job cleaning up the hubs etc to make sure everything would be great.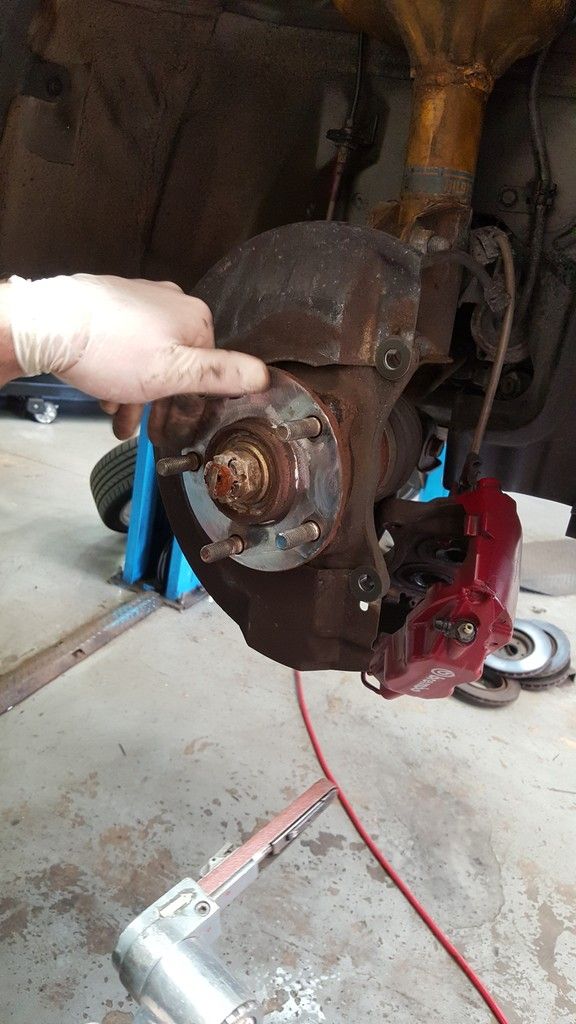 He works on your car as though it were his own and you can't ask for more! Unless of course you value your undertray........
Dave is not their biggest fan as you can see from him booting mine to the wind after a testy fight in which he had to resort to cutting :lol:
I wanted a base dyno to work with so off we went to that evil place scooby clinic.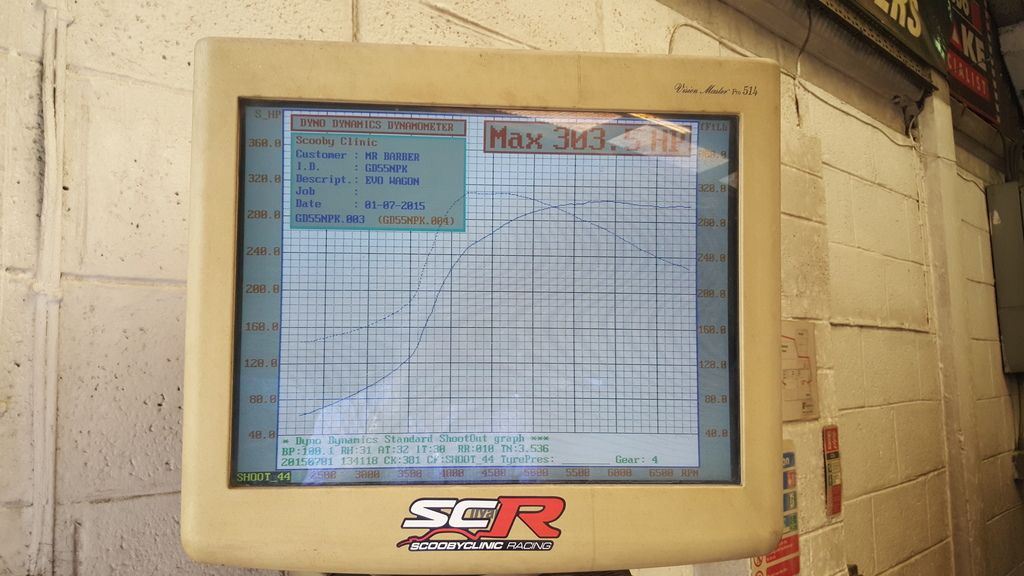 It made decent power for a standard car especially considering it was 30C. You can see that timing was pulled at the top end and its not the smoothest of graphs.
Matt decided to try out one of his intercoolers that MG make now, to see if it would make much difference. I have left the standard intercooler in the pics as a comparison.
Once fitted we shot back up to the dyno only to see it was even hotter now!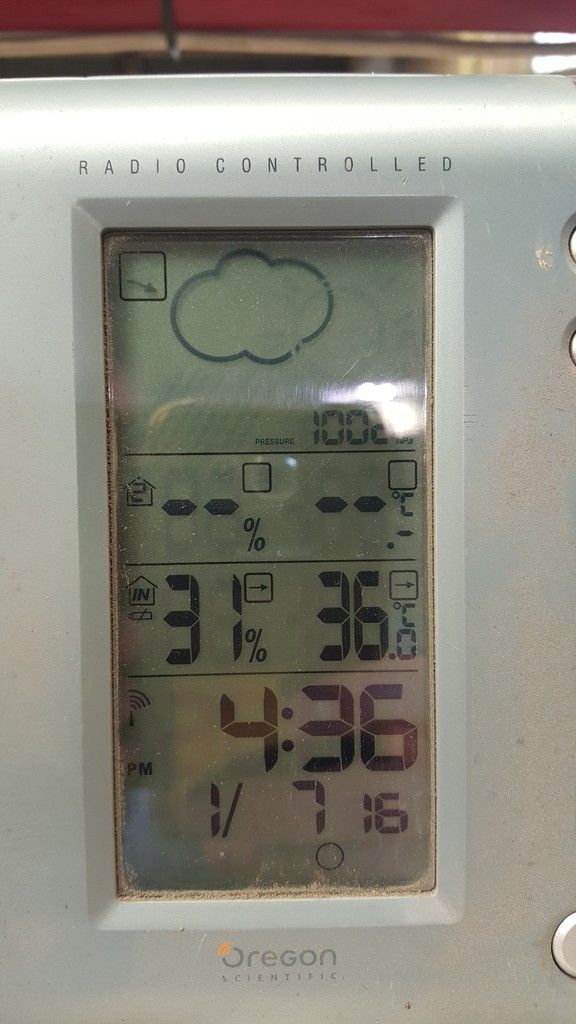 Similar power made but with a smoother curve and no loss top end so I would call that a win :smthumbup (be aware the scales are different)
After seeing a few IX's on here with X wheels I thought I would try it out too. Took the winter tyres off and got some new rubber on them as well as a power coat.
On they went and off to the MG services alignment centre, next door to MG autos :coolsm: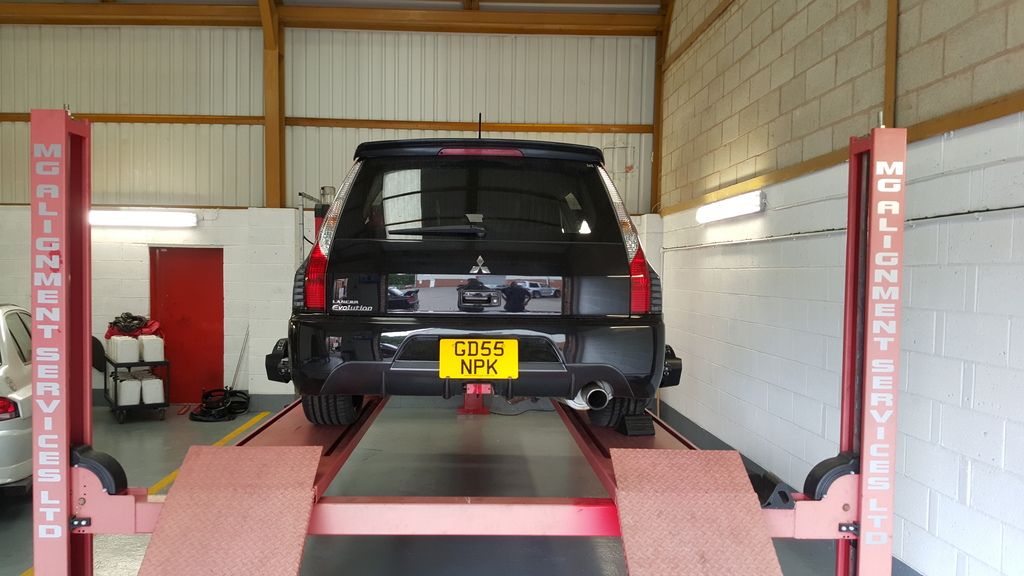 Turns out one of the front arms is a little bit bent so one front wheel is around 5mm further to the rear of the car than the other. :goingmad: Needless to say it pulls slightly to that side :lol:
Seeing as I have some Ohlins on the X I thought i would try the Bilstein B16's on the IX (nothing to do with the Ohlins not being in stock :blush
. They should arrive in a couple of weeks along with a full superpro kit and roll centre kit. After that its a Blouch XTR and full engine rebuild (Moh took me for a spin :naughty
. I will update as parts go on.
The aim of the build is 500+BHP in a perfectly drivable family car. I know its only a number but I have not taken a car over 500 before so thought it would make a change. Its going to be used to haul my 1 year old about along with any and all equipment she might need so having an all round car is the aim. I will keep you updated on how that goes :smthumbup