WHITE NOISE. You asked
so whats the difference between a gsr txbox and a tme/rs txbox?
Thanks to all the people on previous threads who's input, made this possible for me to trawl through on the MLR, and also to those who have put up these pictures in the past, I hope you do not mind me using your pics. I just added info to your pics :smthumbup:thumbup:
There is no difference they both came with Torson type front LSD Diff's in the transfer box when leaving Japan as standard, and a AYC Computerised assisted DIFF in the rear.
THE V GSR. VI GSR. THE VI TME GSR. sometimes known as a 6.5. I am not sure about the IV
there is a lot of confusion on this site when someone asks this type of question, as I see it, the reason is that most of us, including me often, are not technically up on the jargon these clever experts use i.e. neverneverman todd-w. spn. STU8. AndyF_RSX. etc, very clever people. i.e. these two words Helical Type meaning with gear's, and VCU or viscous meaning the coupling unit that house's these gears, as in the picture I have put up, this is the area the 4 bolts are breaking in the transfer box which has this Torson Type LSD, again if you do not have this type of TORSON LSD this will not affect you.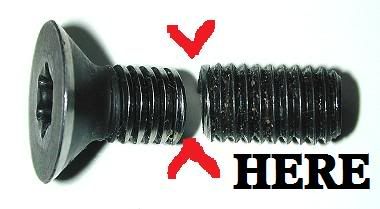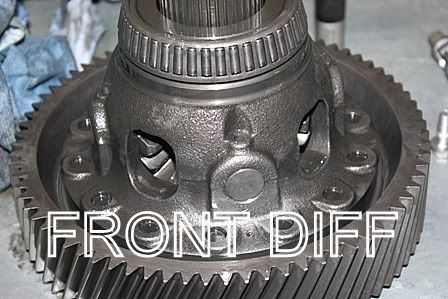 This is the diff that some are having a problem with in the 5 speed M/T EVO X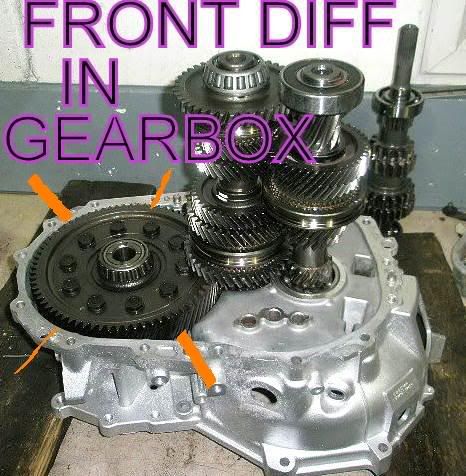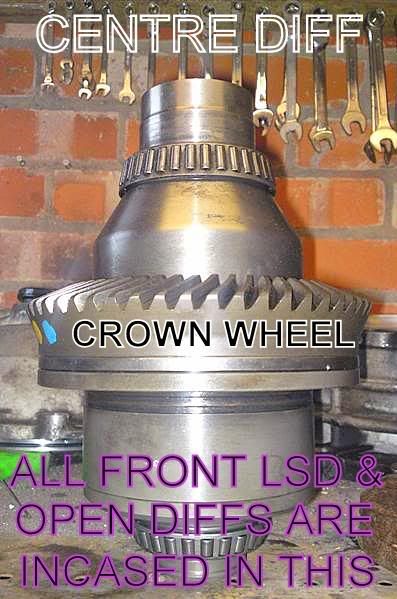 And then put into the transfer box which is also known as the CENTRE DIFF which is bolted to the side of the gearbox
If you have
NO LSD
in the transfer box, like the bottom picture you can not break these bolts they talk about as this is what they call a OPEN DIFF. and hence NO bolts to break. i.e. have a look round the top cover of the open diff picture NO HOLES.
It is this helical or viscous coupling typed TORSEN LSD i.e. two pictures below that the bolts are in that break.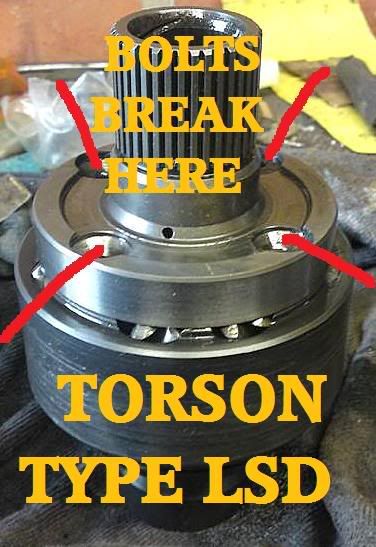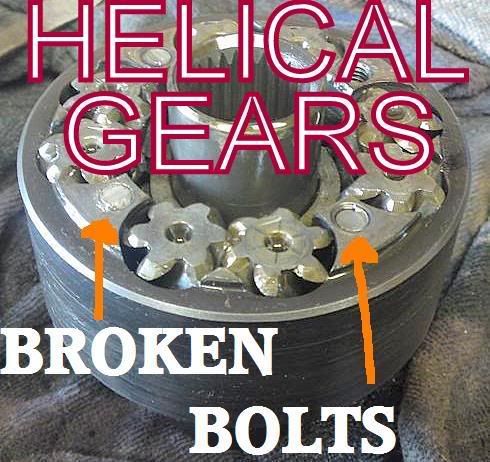 I have only just looked into this so I am not the brain of britain on this subject. I think that when people keep going on about an RS and talk about the LSD DIFF on that car, what they are not saying to you is, that the diff they are referring to is in the REAR of the RS, and is a plate type LSD, this took me a while to understand when reading various posts. the RS has an open type diff in its transfer box or known as the centre diff by some when leaving Japan unless requested otherwise, as far as I am aware bottom picture, you can see the bar they talk about inside the caseing so you can see right through this type of diff, you can upgrade at any time for what ever motor sport you take up. maybe to a plated LSD like this one here below 2 pics, this also can be put into the transfer box, if you wish to remove the open type diff it came with, this is the type that make's the chatter sound they talk about.
The experts are saying i.e. todd-w. neverneverman (Paul) or spn (Simon) that there are different size transfer box, centre diff caseings out there, if you wish to upgrade to LSD type diffs, so be careful check first that the LSD you are going to use will go into your caseing. It would be a good idea to talk to these guys before going ahead with any upgrade.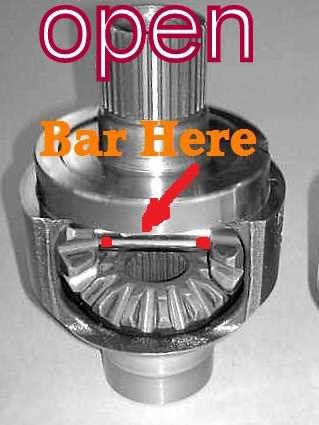 Just trying to be helpful.
Please experts, correct anything I have put up. as I am at the learning stage.
Have brought this thread over from a thread I started in the gearbox/clutch/transmission section titled Transfer Box cover question.