Ok lads.
I have spent a fair bit of time trying to get to the bottom of the red TME's with red door handles / spoiler blades / black door tops etc. mystery and finally have the answers.
To the community this is perhaps both good news, and not so good news (depending on what your car is).
So, as according to
all
Mitsubishi literature and archives (I went and asked directly) red TME's with the above mentioned red door handles / spoiler blades / black door tops
did not exist
.
We also looked through all the parts archives and red door handles or wing blades were
never made by Mitsubishi
for the TME.
So, how do we have cars with some or all of these and seeming to be original paint?
Well I finally found the answer.
Companies such as MONSTER SPORTS, and some Rally shops (CUSCO also did it a lot with earlier model Evo RS's) bought cars direct from the Mitsubishi factory and repainted them, added some accessories, and then sold them as new cars via their own outlets. Ralliart Pit Workshops also did this a LOT and was one of their major sources of revenue.
MONSTER SPORTS in particular is known for doing this with TMEs and in fact when I was told this I remembered that I had in fact seen some back in the day.
In some cases the cars came with all manner of accessories fitted, or simply all red, a MONSTER SPORT sticker or two and an ECU tune. These cars were still classed as brand new and sold as such with the full Mitsubishi warranty.
Here is the 'top of the line' model, sold like this as a new car with full Warranty. Note door handle and door top colours: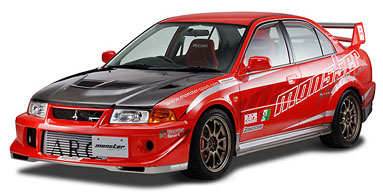 So here's the kicker. If you have a Red TME and it does not have black door handles, white wing blade and or it has black door tops and this all appears original, it will be one of these modified cars and could also possibly not even be an original red TME.
If the model number does not have a 2 at the very end, it is
not
an original SCP (1 of 212 made). It will be one of several other possibilities.
There were also Evo VI's 'upgraded' to TMEs by these companies (yes interior, mechanicals, bodykit, everything) and also the factory highly possibly during the model cross over period, but generally the body number will reveal what it was/is :mitsi: