Hi all, after searching for what seems like a life time (probably about 6 months) I am the proud owner of a very tidy red evo 5 with just 44k miles
I saw the car on eBay and knew it was the one I wanted aslong as its was as good in the flesh as it looks online. A deposit was paid and then another long wait of a week and a half before I made the trip from Leeds to Exeter to see the car. All this time I was thinking, I hope its a good one as I've had some wasted journeys recently looking at evos that were not as described.
While waiting for the time to pass until I could see it I found out the seller ,James was a member on here. This made me a bit more optimistic he car could be a good one.
We finally got there after a 5 hour drive and after a short time I could tell the car is just as clean as it looked in the ad. I could only find 1 dent on the bodywork and this was only a small one which a good dent man will get out. The underside is mint with just a small amount of surface rust in on the spare wheel well, no doubt this will be sorted soon enough.
After a test drive I knew I was taking this V home, I think James was regretting selling at this point.
The car drove spot on the 280 miles back to leeds, not a bad test for it really.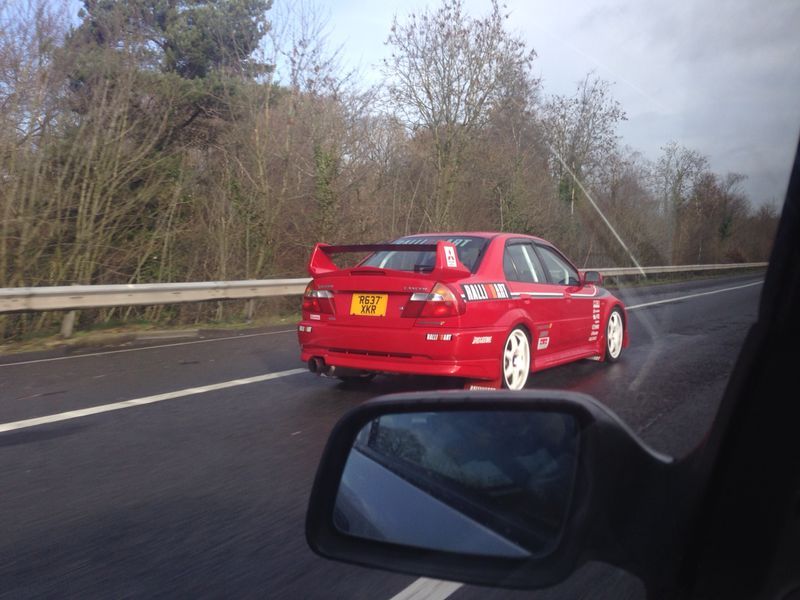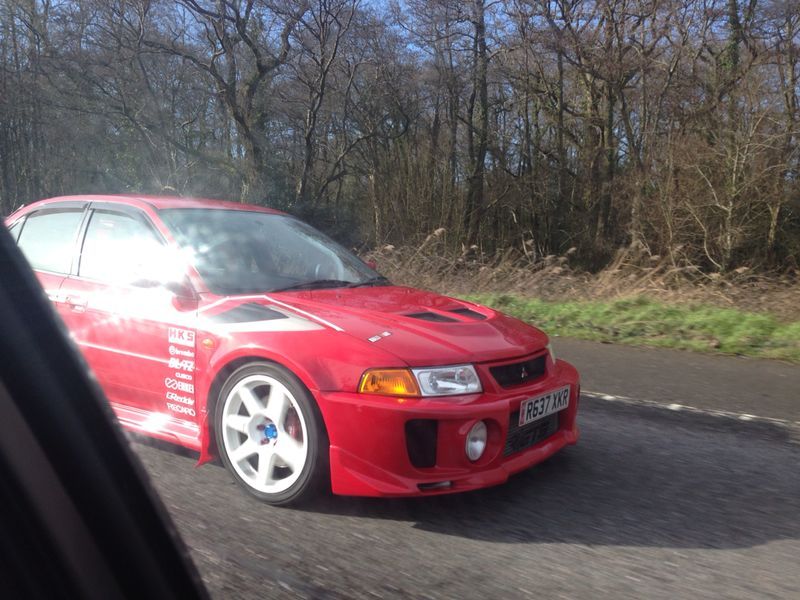 Spec taken from sellers ad:
OMP suede steering wheel
Blitz oil temp gauge
Greddy boost gauge
Auto Meter monster tacho with shift light
AMS gear knob
Blitz SUS air filter with relocation kit.
Competition paddle clutch and lightweight flywheel
3inch down pipe full stainless
Full Blitz Nur exhaust sytem full decat, I have cat for MOT.
Front 3 point strut brace
Cusco lower frotn brace as well as standard lower brace
Rear Kansai brace as well as standard rear boot brace
HSD Coilovers recently fitted like new.
Compomotive 18" wheels worth £1000 a lone fitted with Yokohama AD08's great road track tyre.
Apexi Boost controller - 3 boost settings.
Cusco roll cage
ECU TEK re-map 395bhp
ARP Rod Bolts
EVO 9 turbo which had only covered 12000 miles
Kevlar cam belt and balance belt
Tegiwa Tubular Manifold - not cheap chinese rubbish
ETS Intercooler - imported from the states one of the best on the market.
Ralliart hard pipe kit
Walbro 255 fuel pump
SARD fuel pressure regulator
Siemens 750cc injectors
I have some parts from my old car to fit including AP Racing 6pots and 4pots and 9rs diff.
So far I have removed all the stickers, I was going to leave the mak stripes but they were looking a bit tatty close up, so I decided to pull them all off and give the full car a flat with 3000grade and a machine polish. I won't be using the car until spring so ill just take my time and make it perfect.
How it is now in its new home bonnet and roof flatted.
[/URL]