Mitsubishi RVR Evolution 4G63T (Ultimate Sleeper)
N.D Forged Engine - 5 Speed MANUAL
(USA Buyers also welcomed as its 25 Years Old)
Registered: 01 December 1997 - 'R' Plate
Imported in UK: 06 February 2012
Make: Mitsubishi
Model: RVR Hyper-SportsGear X3
Colour: Factory White/Silver
Currently running: 380 BHP/400 lb.ft Torque @ 1.6Bar Boost on a SD Map
Mileage: 149,700 KM (Mixtures of Miles & Km Since Import approx. 93k Miles)
Fresh MOT: November 2023
Cambelt/Balancer/Waterpump/Auxillery Belt changed: October 2020
2.0 Evo 6.5TME Engine 4G63T (Mitsubishi Factory Fitted In Japan)
Norris Designs Forged 2.0L Long Rod rated to 550 BHP
Evo 8 MR Cams
Gates Kevlar Timing Belt Kit
Cosworth Blue Kevlar Balancer Belt
GMB Water Pump
Ported/Polished Exhaust Manifold
Ported/Polished Inlet Manifold
Oil Catch Can – Oil Filter Relocated with Metail Braided Lines & -AN fittings
HKS Mushroom Induction Kit
Uprated to the Evo 9 Metal recirculating valve (holds better boost)
Uprated Fluid Damper – Crank Pulley
Evo 9GT Larger Oil Cooler – I think they have 14 Rows Cooler
FMIC with custom I/C pipings
Custom Radiator with Twin Mishimoto Slimline Cooling Fans – Apexi Rad Cap
Motorsport Spec Cop Kit – Individual Coil Pack – Toyota DENSO – BPR8ES
Transmission
Forged ND Engine – ONLY used Fuchs Titan Pro R 15w/50 Racing Engine Oil – Highly Recommended by Simon Norris @ 'Norris Designs'
Front Transfer Box
Evo 6 RS Gearbox 5 Speed – CliveW built with the uprated 4.11 Final Drive Ratio W5M512X6A1
RS Rear LSD Diff – No dreaded AYC issues


Turbo
Evo 8 Turbo fitted – fully built by CR 'Universal Turbos'
Uprated Actuator & 10.5T Housing (Single Flap)
FULL True 3'' Downpipe
Apexi 3port Boost Solenoid
Greddy Boost Controller
Exhaust
FULL Custom 3'' S/S Turbo back exhaust system by 'LongLife' Wallington
Clutch –
Uprated Racing Clutch & Fidanza lightweight balanced flywheel
Interior
Custom Made TFT LCD Screen with Toggle Control by 'ZADA TECH' this shows Oil Temp, Oil Pressure, Water Temp, Boost, Intake Air Temp & Intercooler Temp – Very similar to what is found on the Nissan Skyline GTR R34 & R35 Screen
MOMO Evo 6 Leather Steering Wheel
Front 2 Seats Upgraded to 'Sports Bucket Seats' very comfortable
Greddy - Boost Controller
SONY CD/USB/Bluetooth Player
Leather OEM Gearknob
Sunroof Tilt/Slide
ECU
OEM Evo ECU – MD352553 & has the OEM Mitsi Chip board for mapping MH7202F A01
October 2020 - it had a very quick once over by Gaz @ GR Performance on Shell's V-Power – but i would recommend for its Final visit there to 100% complete its Speed Density Map & rectify/tweak few niggles like the idle rpm etc & also Add the likes of Launch Control & Pops & Bangs (Mild ALS) if required – or of course use your local specialist mapper if you prefer But I personally vouch for Gaz @ GRP
Speed Density SD Mapped – So Runs MAFLESS
3 Bar MAP Sensor
Fuelling
Uprated Fuel Injectors RC 750cc
Walbro Uprated 255l High Pressure Fuel Pump in tank (Hardwired)
Always Ran on SHELLS V-Power or Alternatively TESCO's MOMENTUM
Braking
Brembo Front & Rear Brake Pads
Brembo Front & Rear Calipers as found on the Evo 6>
HEL metal braided brake hoses mated with MOTUL 5.1 brake fluid
Exterior
17" Enkei Alloys on 235 45 17 (As found on the Evo 9 Models)
Toad Cat 1 Alarm/Immobiliser System
Mitsubishi OEM Wind Deflectors (Rare)
Full under protection by 'RustMaster' – Very SOLID & clean underneath for a 25 year old Mitsi – Will upload many pictures from various angles to show this
Works / Mods Carried Out Under My Ownership:
Full service including Oil (Fuchs Titan Pro R 15W-50) Mitsi Filter – 2019, 2020,2021 & 2022
Fuchs 75W90 - Transmission Fluid change on Gearbox & Transfer Box – 2019 & 2022
Fuchs Titan Sintopoid LS 75W90 Fluid for the Rear LSD Diff – 2019 & 2022
Gates Timing Belt Kit & (Cosworth Balancer Belt) - 2020
Gates Auxillery Belt & GMB Water Pump - 2020
Power Steering Pump replacement - 2019
ISCV replacement - 2019
OSF ABS Sensor & Thermostat - 2019
Brand New Starter Motor – 2020
Bucket Seats Installed & Metal Fabricated Seat Rails by STG - 2020
Motul 5.1 Brake Fluid Change – 2019 & 2022
Brembo Rear OSR Caliper Reconditioned by SSL Wakefield - 2020
Front New Struts, Shockers, Springs & Top Mounts AutoDOC - 2020
Anti Roll Bar Link BluePrint x2 & Ball Joints & Wishbone Bushes - 2020
Koyo Idler Pulley from ICP - 2020
4 Wheel Drive Laser Geometry Alignment Setup & Adjustable Camber Bolts Fitted - 2021
Rear Diff Axle Bushes Upgraded (Track Control Arm Bushes) – FEBEST parts by AutoDOC - 2022
Thousands have been spent under my ownership including parts & labour
*reason for sale is simple – unfortunately I'm moving towards a new project/venture of the German VAG side of performance cars – newer & refined versions, I now require some of the funds by selling this up to purchase the 2017+ Audi S3 S-Tronic or the 2017+ VW Golf R DSG
This car is extremely quick with early spool. It has this raw power feeling like the Evo 5 & 6. This RVR is the Ultimate Sleeper (Wolf in Sheep's Clothing). It has a folder full of receipts supplied with both keys & both Toad Immobiliser
For a 25 year's old car it is in exceptional condition - both interior & exterior. However it's not in showroom condition so expect it having the minor car park dents/dings or two & expect few scratches/blemishes etc
Please Note: it is recorded as a 'Cat C' by previous ownership (Colin F) back in November 2015 (7 Years Ago) which was then professionally put back on the road by him with all necessary parts required at the time. There is a link on the MLR which I will add on this advert, it shows Pictures of Damage it sustained & when it was back on the road again by Colin soon after. All necessary parts were ordered from Japan etc
Link:
Friday the 13th - Wrote my RVR off
Nothing to hide – it's good to point out so people are aware of this in advance:]
*There is also a Full 20 Page Thread on the MLR of the FULL RVR Evo Build of this by Colin F – His MLR UserName is: '2+barplease' he has been a MLR member since 2011 & those that have been on the MLR from day dot will know him very well :]
RVR Evo Build Link
: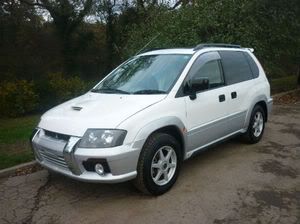 After looking for a decent Evo 5 or 6 for a while and finding **** all. Except not AS described cars. So a bit of research later I bought one of these: It has Evo an 6 engine, being one of the last. Then I picked this up yesterday A Sard fpr, a 255, its already got 560's need...
www.lancerregister.com
I have been a MLR member myself since December 2008 (14 Years) & have owned many Jap Import cars in the past including Evo 8 FQ300 – Evo 4 – Yellow Evo 5 & also a Mitsi AirTrek & many others.
It must be seen to be appreciated More pictures can be sent on request
NO Timewasters/Dreamers/Tyre Kickers PLEASE
*Test Drive will ONLY be done by myself & sorry in advance but I would recommend maximum 2 people coming for viewings by appointment Only.
**After my Test Drive completed & viewings of the RVR's documents etc & the potential buyer is then happy & ready to make purchase; Test Drive is then welcome for them upon showing a valid Fully Comprehensive Insurance documents that allows s/he to drive another vehicle with owner's permission clearly documented. If no document can be presented then I'm really sorry no test drives. Hope this is being fair from my side.
USA:
As said earlier this Mitsi RVR can now be officially shipped over to the USA & be immediately road registered by the buyer as the vehicle has turned 25 years old (01/12/1997). Domestic Law meaning ANY car that wasn't sold for the USA Market can't be road registered/imported over for at least 25 years.
Payment:
I would like to be paid by doing Online Banking – vehicle to be released till funds show on my side of the account. If you do decide to make Cash payment that's also fine – But Only on the basis of both parties going to my local bank to deposit in my account & then car to be released after Funds show on my side as I believe the banks do further checks & update after couple of hours of being deposited. To secure the car a small Deposit can be made but on a non-refundable basis.
The RVR is used twice a week (Friday & Saturdays) covering approx. 60 miles. I have owned the RVR for almost 4 years & it always puts a smile on your face on the spirited drive – basically a Mitsi Lancer EVO powered Manual car but in a Mini SUV Shell ;]
I am in No rush to sell as I have my insurance running till November 2023. As covered in the advert description No PX required, just a straight sale for the RVR – Thanks In Advance
It's classed as a 4 seater – 2 at Front, 2 at Rear & what a spacious vehicle it is indeed. The rear seats are like sitting on a comfortable couch consisting large armrest, cup holders, and Japanese thick ply carpet mats. The rear seats can be moved all to the front or all to the rear or multiple other folding positions as they are fitted on factory rails. It has much storage at the front, x2 glove box, centre storage, cigarette ash tray storage & x2 hidden front cup holders along with power folding mirrors.
The RVR being a recreational vehicle has many other extras - Tilt & Slide Sunroof, sliding rear doors with electric auto shut (soft closure). It sure is an amazing oddball mini SUV with many cubby storage boxes, x3 12V charging docks, factory fitted OEM tinted rear Glass (Not Film), not to forget the amount of leg space it has for the short or long journeys & not having the middle hump found on the lancer EVOs – it's all flat one open leg space & to add extra space & storage it comes with factory roof rails.
Factory rear sports spoiler & rear space saver wheel storage with its own holder, similarly found on the Mitsi Shogun/Pajero SWB models. The space saver storage box can then be manually moved to open the rear boot – must say an amazing piece of kit & design by the Japs for a 1997 Car/Mini SUV.
Factory Xenon main beam Auto headlights, front bumper been customized for direct cold air intake to the HKS mushroom filter, rare oem Mitsi wind deflectors.
Also to note – this is registered on the annual 'lower tax bracket' so i am currently paying my rod tax on a continuing basis – so it's Only £25.81 per month & prior to the increase it was £24.50 per month :]
As the ND Forged engine is rated to 550bhp & currently Only running 380 bhp – you can easily upgrade to a larger Snail (Turbo) like a hybrid FP Green with a larger compressor wheel & increase power output to 450bhp & other supporting mods & still not strain the engine & What a monster of a car that would elevate it to – but as it is its definitely put a smile on my face but the potential still remains for the new owner.
I will double check & see what extra parts I have for this RVR & chuck it in with the sale if it's any good – I believe the previous owner provided me with front & rear bumpers & many other extra goodies/parts for the RVR which I will have to check as it will then be no good to me once car has been Sold. Good to keep parts as spares, very rare & expensive to source these days just like the lancer evo parts.
I will also be uploading underside pictures of the RVR – so if you bear with me for a week or so when I get a day off work & try organise with mechanic to put it on there Ramp.
*The MLR is only allowing for me to upload a Max of 10 images or 20MB so i have only managed to upload 8 images - i have over 65 clear images uploaded on the Facebook Evo Pages Group - so you can check on there & i can let you know the group page Thanks
I have done my utmost best to write up a good advert description along with pictures – I may still have missed any information about this car – so if you have any further enquiries please drop me a call & I will try my best to give you a prompt response.
Price: £12,995
Location: Wakefield (West Yorkshire)
Contact: 07440 483059