Discussion Starter
·
#1
·
looking for an Evo 7/8 only in p/x (similar value) Scotland only i dont have the time to travel further than Perth (220 miles South from me).
Here we have my 2003 JDM impreza STI Twin Scroll Turbo. Referred to by some as a STI JDM Version 9.
Currently showing nearly 39,000 on the clock but some of this is in KLMS its around 34,000 actual miles.
Taxed until end June 2009 and MOT until Oct 2009.
Being a Japanese import Twin Scroll variant this car was never available in the UK. For this reason the car has ** NO CO2 ** reading on the log book which means it is taxed on the PLG rate at £185 per year, this cannot be changed.!! which is a bonus in itself.
There are a multitude of reasons why you should by a JDM car over a UK version. The Uk car is slower and less powerfull, less spec'd, mechanically inferior and at some point double the cost in road tax. The JDM impreza is a rare car with only a handful for sale in the UK. You will also find 95% of UK cars have a higher millage than a Jap car of the same year.
What else is there to say, well...Enter the age of the Twin Scroll IHI Turbo, it has the same compressor housing as the VF30/34 rage as seen on Uk cars, however it has an all new twin scroll P25 exhaust housing that provides Higher top end output, more torque right throughout the rev range and instant response all due to reduced exhaust pulse interference. Try driving a UK car at 20mph in 6th gear and see what happens, then try the same in a JDM car.
The JDM car of this year also has the sought after DCCD gearbox which wasn't seen in the UK until the STI's off 2005 onwards.
Standard equipment and spec over and above the Uk cars include...
HID headlights
Twin Scroll Turbo
Equal Length tubular Stainless steel Manifolds
Slightly larger Intercooler
Larger profile Cam Shafts
Larger Valves
Higher engineered Pistons
Stronger Con Rods
Nitrated and cross drilled Crank
8250rpm rev limit
STI Branded Walbro 255lph fuel pump
AVCS/VVT.
Quick Rack Steering
Automatic Intercooler Spray (also manual)
Red glow instruments with Sweep Check on start up. (like Defi BF Gauges)
Titanium STI Strut Brace
Shorter 5th and 6th gear
DCCD Gearbox
Rear Wiper
Rear Privacy Glass
Different rear Tail light configuration
Crystal Clear front headlights (UK cars have large Orange Sections)
Clutch Start
Those with an intention to modify may like to know that the ECU in a JDM car has the ability to run launch control, anti lag, dual boost and fuel maps (megarom) etc. The Uk cars ECU does not have these functions.
A uk car will typically make 330-350bhp with remap, air filter, fuel pump, 3 port boost solenoid, and 3" free flowing exhaust system. A JDM car will make over 370 with a remap and exhaust system.. Costs aprox £580 for remap and £400 for a used exhaust system.
My car has an unmodified engine and is unabused with around 320bhp as standard. It is certainly quicker than my previous UK PPP'd 2003 STI which by comparison now felt very watered down.
Oil and filter changes using Pink STI oil filters £25 each and Silkolene Pro S 5w 40 oil at £48 a bottle. (receipts) Timing belt changed, diff/gearbox oils have all been changed, new plugs just fitted, brakes replaced, Tyre and wheel package fitted in Dec. I have recipts for even the smallest things. She wants for nothing and is very well looked after.
In the pictures when i first bought the car you will see a ghastly looking fog light under the rear bumper, I had this removed and integrated into both off the rear lamps the way it should be done on all Jap cars. (see updated pic below) The rear shocks on all newage cars has a design fault and as such will fail. You will see most cars go through aorund 3-4 sets of shocks within the warrenty period and these are very expensive. I have removed the standard suspension and fitted some of the best coilovers on the market so this problem has been resolved for good.!!!!
Fitted to the car is as follows
WR blue STI mud flaps
Black as New STI Interior mat set
Carbon Pillar inserts
Carbon pulley cover
18" unmarked Rota Gra's in black
Front JDM Black headlight mod
BC/Apex Coilover suspension 32 point adjustable with adjustable top mounts on both the front and the rear. Height adjustable on the bottom platform to retain full suspension travel.
Full prodrive fast road setup
Whiteline rear 22mm anti roll bar
Perrin dog bone ball end drop link kit
£11900
located in North Scotland
Can only be described as immaculate throughout.
These pics were taken when cleaned the car for the first time just days after buying it.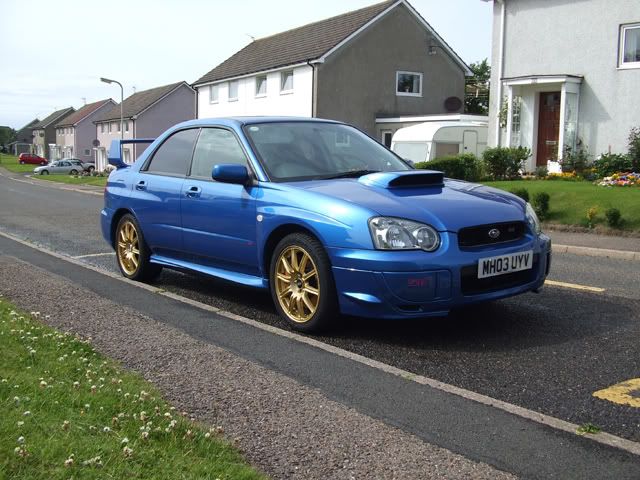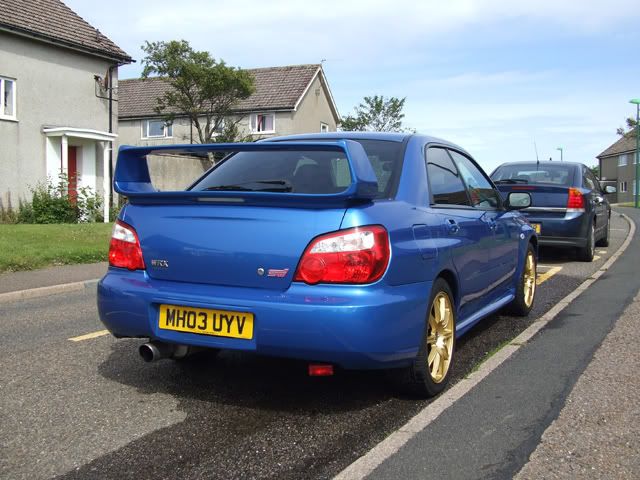 New pics..