·
White, Lean & Very Mean!
So I thought I'd do a shot of this season's collection :lol: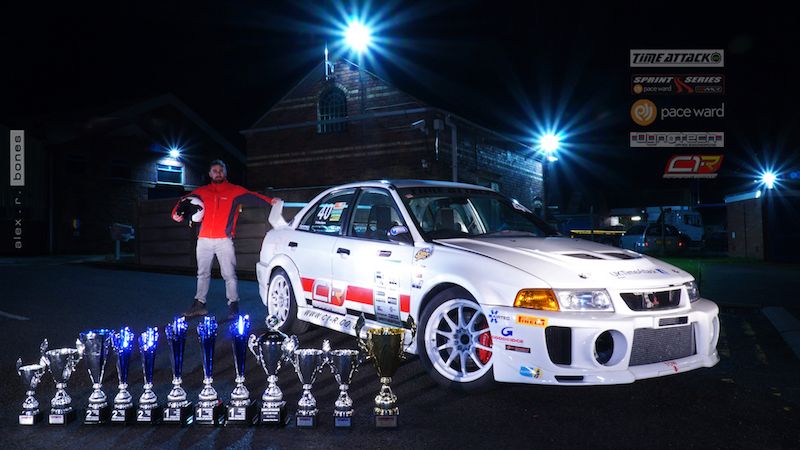 This has been my first 'proper' season in competitive motorsport and it has been an absolute blast!
We (myself and the C1-R team) are delighted to have secured the overall MLR Class A Sprint Series title this year as well as second overall in the Clubman Plus (CM+) class of the UK Time Attack series. It has been an incredibly busy year doing two championships... but well worthwhile! :smthumbup
Massive, massive thanks to Chris Timmins and the C1-R team (Kieran Young & Leigh Jordan) - without their support and A* services the season, and the results, would just not have been possible.
The car is mapped on SD/std ECU by Lee5 (Dynotech Hayes) to perfection and runs a stock 80 series turbo and 560cc injectors. It has been a faultless set up and I simply can't recommend Lee's services highly enough.
How I took the pic (with me in it lol):
I shot this with the camera on a tripod, with a timer and a looooooong exposure meaning I had to stay perfectly still to avoid any noticeable motion blur. It was a team effort as the shot was lit with a large flashgun mounted on my camera and the headlights from 3 other cars :lol: (Chris Timmins', Leigh Jordan's & mine). We got through three tanks of fuel leaving the cars running and a few rounds of coffee too :lol:. Pretty pleased with the result though; cheers boys! :smthumbup
Although I've owned 4 Evo's now - a rare 6RS Sprint, a IX, a 600bhp 5RS and this one - I'd never previously done anything with them other than polish 'em and keep 'em tucked away.
I still keep this one in the best polished condition I can, but using it 'properly' this season has been AMAZING and truly a rewarding way to get the best from what they were made to do.
No matter how polished, rusty, dirty, modded, non-modded, fast or slow your car is just get it out and give at least one round of racing a go whether it's a sprint, hillclimb, TA or something else competitive. I can almost guarantee you'll come away scratching your head and wondering why you didn't do it before... especially as it's possible to have a go for under £200 (quite possibly less) all-in! :smthumbup
Regards, Alex