So the time has come to part with my Evo due to a potential new property purchase. If the property sells beforehand the advert will be removed (I've been after this property for years.)
Used as a third car for dry weekends only, the car boasts full comprehensive service history carried out by reputable Evolution specialists. Car is currently tucked up for winter but viewings and test drives can be sorted by appointment. Only I will be driving however.
The car was completely standard apart from an uprated fuel pump and remap when I bought it in April. I purchased the car from Luke S on here and over the space of a year I've spent a lot of cash bringing it to where it is now. I have had fitted a full new exhaust, intercooler and mapping. I have also spent a lot of time powder coating and cleaning parts to tidy things up. The car has been serviced fully, a gearbox oil leak sorted and gone through with a fine tooth comb by NigelS before mapping ensuring everything was as it should be. Car has always been kept in a warm dry garage with dehumidifier.
Spec
2005 Evolution Mr FQ 320 with all the usual refinements. Number 202 Uk Car supplied by Xtreme.
Cool silver.
6 former keepers.
All keys, Documents present
MOT till April 17
92k FSH listed below.
C.P.P 21.06.05 947 miles
C.P.P 15.08.05 4498 miles
C.P.P 09.11.05 8901 miles
C.P.P 08.05.06 13,193 miles
C.P.P 19.09.06 17,414 miles
C.P.P 29.05.07 17,948 miles
C.P.P 26.09.07 20,446 miles
C.P.P 29.07.08 23,199 miles
Xtreme 15.09.08 25,336 miles
Roger Clark Motorsport 07.04.09 29,730 miles
Xtreme 07.09.09 33,852 miles
Roger Clark Motorsport 06.04.10 37,780 miles
Roger Clark Motorsport 25.10.10 42,612 miles
Roger Clark Motorsport 31.05.11 47,602 miles Belts done
Roger Clark Motorsport 10.01.12 52,289 miles
Roger Clark Motorsport 21.02.13 59,509 miles
Xtreme 27.09.13 61,388 miles
Wallace Performance 01.04.14 65,058 miles
C1-R 06.01.15 69,703 miles Belts done
C1-R 28.05.15 74,929 miles
C1-R 28.08.15 79,387 miles
C1-R 01.12.15 83,946 miles
C1-R 17.02.16 88,416 miles
C1-R 29.04.16 Health check before sale from Luke S including M.O.T
Cliftons (NigelS) 29.09.16 91,933
Engine/Transmission
Stock engine internally
C-Tec 3 inch modular down pipe and turbo elbow. (Done less than 1k miles)
C-Tec 3 inch resonated cat back exhaust system. (Done less than 1k)
C-Tec 3 inch silenced de-cat. (Done less than 1k)
3" ETS Intercooler (Done less than 1k miles)
Walbro 255l/h high pressure fuel pump (Done less than 1k)
Full Black SFS hose kit onto HKS hard pipes secured with Murray clamps. (Done less than 1K)
HKS Reloaded induction kit (Pipe and Filter)
3 port boost control solenoid.
Mapped by Garry Plant at GR Performance with switchable maps controlled on intercooler switch
High boost 406 HP. Low boost 380 HP. Pops and bangs on low boost map. Mapped on v-power Graphs to prove
Suspension/chassis
Bilstein b8 dampers fitted
Evo 8mr standard team dynamic wheels just refurbed by Metal Magic in Barnsley in Hyper Black. Come with a 1 year warranty.
Good condition Goodyear Eagle F1's fitted all round with plenty of tread 235/45/17
Gbe Black wheel nuts
New Mintex F6R pads fitted to Brembos (Done less than 1k)
Goodridge stainless steel clear brake lines.
Interior
Factory standard MR 320 interior with very little wear and tear on the Recaro alcantara bolsters. A few age related marks but nothing out of the ordinary.
Everything works as it should mirrors, AC etc.
Car is fitted with a Sony double din head unit with I pod and Bluetooth controls.
Recently fitted a new glovebox and gear knob to tidy up areas I wasn't happy with.
Xtreme mats
Exterior/body work.
Factory standard bar black Ralliart mud flaps.
All wiper blade arms, mesh and various behind bumper / underbody brackets powder coated
Carbon exhaust heat shield re lacquered
Detailed recently (I have a full new seat of rear boot badges to fit)
Negatives
Brembos could do with repainting
Rocker cover would also benefit from a repaint.
Minor age related marks non that will photograph
Very minor surface rust in places underneath but no rot all solid.
The underseal could do with a top up, it has been done before but didn't want anyone thinking I've covered anything up. Has been checked over by LukeS, Chris at C1-R and NigelS.
Link to my thread on the Mlr
http://www.lancerregister.com/showthread.php?t=529295
There are various spares to go with the car if wanted. Old brake pads, fuel pump, intercooler etc
There is some outstanding finance on the car this will be cleared before sale. This isn't the usual ebay rubbish you see. For better photos etc please pm me or phone to arrange a viewing
Price £
Car is located in Sheffield
I can be contacted on
Cheers Lee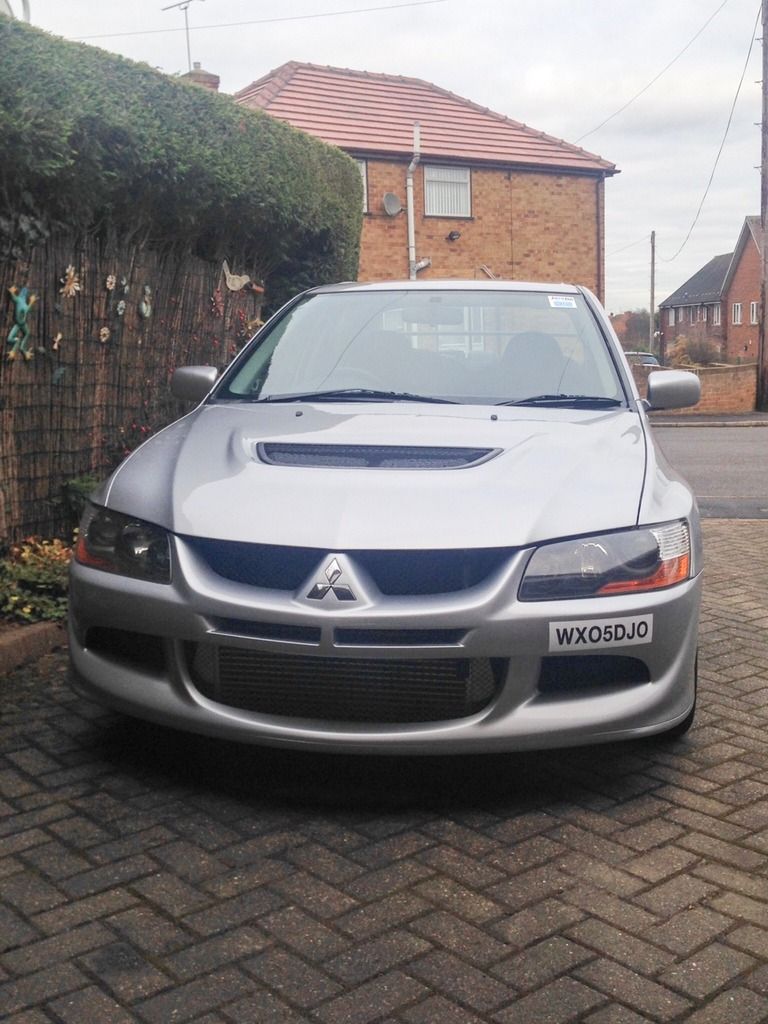 Will upload more photos when I get better internet access as its been temperamental on my phone.