Seems like there's been a lot of newcomers to the forum who have missed the race to 400/400 over the past couple of years and so are now asking about how it's done, so I've put a short guide to stage 1 tuning together.
As always, this stuff is only gleaned from information I've read on here and my own personal experience, so I'd be grateful if people could suggest corrections and add any information they feel is necesary. Just post up your comments and I'll add them into the first post.
The VIII MR FQ-400 was essentially a stage 2 car before it left the showroom, so isn't covered here.
A list of the differences between the CT9A models can be found here:
>>LINK<<
---------------------------
Universal Upgrades
No matter what the base car, all of the Evo VII to IXs (model prefix CT9A) can benefit from the same improvements to allow the engine to breath better and reduce the backpressure in the exhaust system to allow increased performance from the stock turbo. In addition, all of the CT9As will require an uprated fuel pump to ensure safe fueling at significantly higher than stock power levels as well as a remap of the stock ECU or an ECU hardware upgrade to reach stage 1 power levels.
Breathing / Induction
Whilst the VIII MR FQ-400 made its power on the stock airbox, it's widely accepted that the stock airbox is a restriction on allowing stage 1 cars to perform to their best.
Until a couple of years ago it was very common to fit aftermarket induction kits to the Evos, this changed after John Banks experimented with just modifying the airbox lid (see pic below) to allow a greater flow of air on full boost. According to John's findings, the modified airbox produced a very similar pressure drop to an aftermarket induction kit, whilst actually protecting the induction from heatsoak by enclosing the panel filter and drawing air from the outside of the engine bay via the snorkel and the cooler part of the engine bay on the nearside.
Aftermarket panel filters are available for the stock airbox which can be used with the modified airbox lid. However, there is very little test data to show whether these filters are an improvement over the HKS panel filter fitted to most FQ cars.
Alternatives to the modified airbox include the large K&N cone filters, the Perrin Cold Air Induction kit and bespoke induction kits.
Exhaust
The Evo VII-IX MRs come with various exhausts depending on the model, but they are all modular, consisting of a downpipe, catalytic converter or decat, and catback sections (usually in two pieces) as shown in the picture below. It is widely accepted that a 3" exhaust from the turbo elbow back is required to reduce the backpressure on the turbo to a minimum, thus allowing the best spool and maximum high rpm power.
In terms of which exhaust is best, as long as the exhaust is 3" along its entire length including the cat/decat and its flanges and mates to the elbow that you have fitted to the car, then it really is just a case of personal preference concerning looks, sound and cost.
Milltek exhausts tend to be amongst the quietest full 3" exhausts, with Magnex and Nur Spec being popular and louder alternatives. Greddy, Trust, HKS, Blueflame, Scorpion and others also supply 3" exhausts.
The most expensive exhausts tend to be made out of titanium and weigh around 10kgs less than their stainless steel counterparts. Cheaper exhausts may well be mild steel rather than stainless.
This is the standard HKS downpipe, cat and HKS Super drager as fitted to the majority of the FQ cars: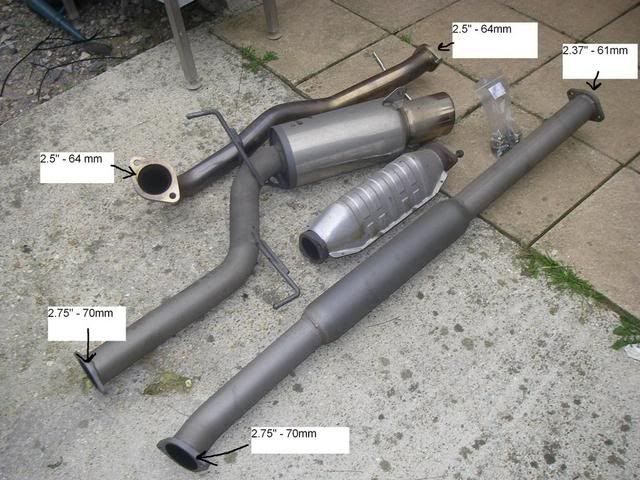 Evo VIII 260
The Evo VIII 260 has two cats in its stock exhaust system – one in the downpipe and one in the normal cat position. If either are removed the ECU can recognise a fault and show a Check Engine Light on the dash to show the cat isn't working properly. This problem can be resolved with either an O2 emulator or a remap.
The main cat end of the VIII 260 downpipe has a different flange angle to the other Evos. This means that if you replace the full exhaust with a 3" exhaust, your main cat won't be able to be refitted for MOTs. All other CT9A cats will fit though.
Evo VII
Some models of the Evo VII have a second O2 sensor by their cat and face the same problems as the VIII 260 when decatting. These can be resolved as per the VIII 260.
Evo IX FQ-360 and IX MR FQ-360
These cars are fitted with race cats that can support stage 1 power without being removed.
Fuel pump
The stock fuel pump on the JDM cars are run very hard at the 360 bhp + level, as evidenced by CCC upgrading the fuel pumps on the IX FQ-360 and the IX MR FQ-360 to 225 l/ph versions.
It's widely accepted that a 255 l/ph pump is fitted to any CT9A aiming to reach stage 1 power levels, with Walbro being the most popular pump fitted by MLR members. The Walbro is a direct, fit and forget, replacement for the stock fuel pump.
Walbro fuel pump: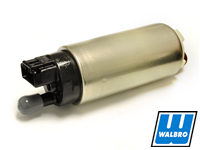 VIII 260
Whilst the other CT9A cars share the same 560cc injectors, the injectors fitted to the VIII 260 seem to flow less than their counterparts and so are required to be upgraded to those from a non-260 CT9A.
Remap
All CT9As will require a remap or ECU hardware upgrade to achieve their full potential. Choice of remap or upgrade really is down to personal preference, however an ECU upgrade isn't required on any CT9A to reach stage 1 power levels (and significantly beyond).
Popular choices for remaps are ECUTek which is a professionally developed and supported remapping software, usually used in conjuction with a rolling road by a professional tuner. An alternative to ECUTek is ECUFlash, a free to use Opensource piece of software that has several additional features available over the ECUTek software and is very popular amongst amateur tuners.
Evo VIII FQ-330 and Evo VIII MR FQ-340
As remapping wasn't avaiable when the Evo VIII FQ-330 and Evo VIII FQ-340 were released, CCC added piggy back ECUs to intercept and alter the main ECU's input signals and increase the power output of those cars. These piggy back ECU units are generally removed when tuning to stage 1 as we now have much more effective remapping available to us.
Model dependent modifications
Boost control
The stock boost control was upgraded from the Evo VIII MR onwards to a twin port boost control solenoid which improved the stock boost control considerably. Some tuners prefer to fit a three port solenoid, such as the one in the Apexi AVC-R to enable even better boost control via the stock ECU.
Alternatively a stand alone boost controller can be used, with the AVC-R being popular due to its ability to adjust boost depending on which gear you are in. Other electronic boost controllers include the Gizmo and HKS range.
Most Evos will benefit from fitting uprated boost control of some sort (either upgraded solenoid or controller), but the improvement is most noticeable in the VIIs and non-MR Evo VIIIs.
Perrin 3 port boost control solenoid and AVC-R:
Cams and hotside
The stock cams and hotside were upgraded from the Evo VIII MR onwards to a slightly more aggressive cam set up and a 10.5T hotside.
The Evo VII and non-MR VIII will require uprated cams to achieve their full potential and even Evo VIII MRs and IXs can benefit from fitting more aggressive cams, although they aren't necessarily required for stage 1 (especially on the IX with its MIVEC ability). Many owners combine upgrading the cams with their cambelt change service (45K miles) in order to keep the cost of fitting the cams down. The Evo VIII 260 struggles to reach over 360 bhp on its milder stock cams.
The fitting of the cams really goes hand in hand with fitting a larger hotside on the pre VIII MR models as the larger hotside allows the full impact of the more aggressive cams to be used.
Generally speaking, aftermarket cams with lower duration than 272 do not need uprated springs. However, extremely aggressive cams, such as the Piper range will need uprated springs due to their highly aggressive ramp rate.
Popular cam choices are HKS, GSC, Skunk2, Brian Crower and Piper with choice being very much dependent on the specification of your car and the use you intend to put it to.
GSC cams:
Dump valves
The Evo VII and VIII were fitted with black plastic recirculating dump valves that tend to leak under higher than stock boost pressure. Ideally these should be changed for the metal recirculating dump valves fitted to the VIII MR and later cars, or replaced with an aftermarket version. Dual vent aftermarket dump valves are popular as these avoid the stalling issues with permanent vent to atmosphere valves.
Additional items
The below items aren't absolutely necessary to achieving good power figures at stage 1, but are likely to show minor improvements in driveability, consistency of performance, response and/or top end power and as such are worth researching, especially if you aren't tuning to a tight budget:
- Uprated exhaust manifold
- Uprated intercooler
- Larger ID turbo elbow
- "Hard-wired" fuel pump
- IX 80 series turbo
- IX 71 series turbo